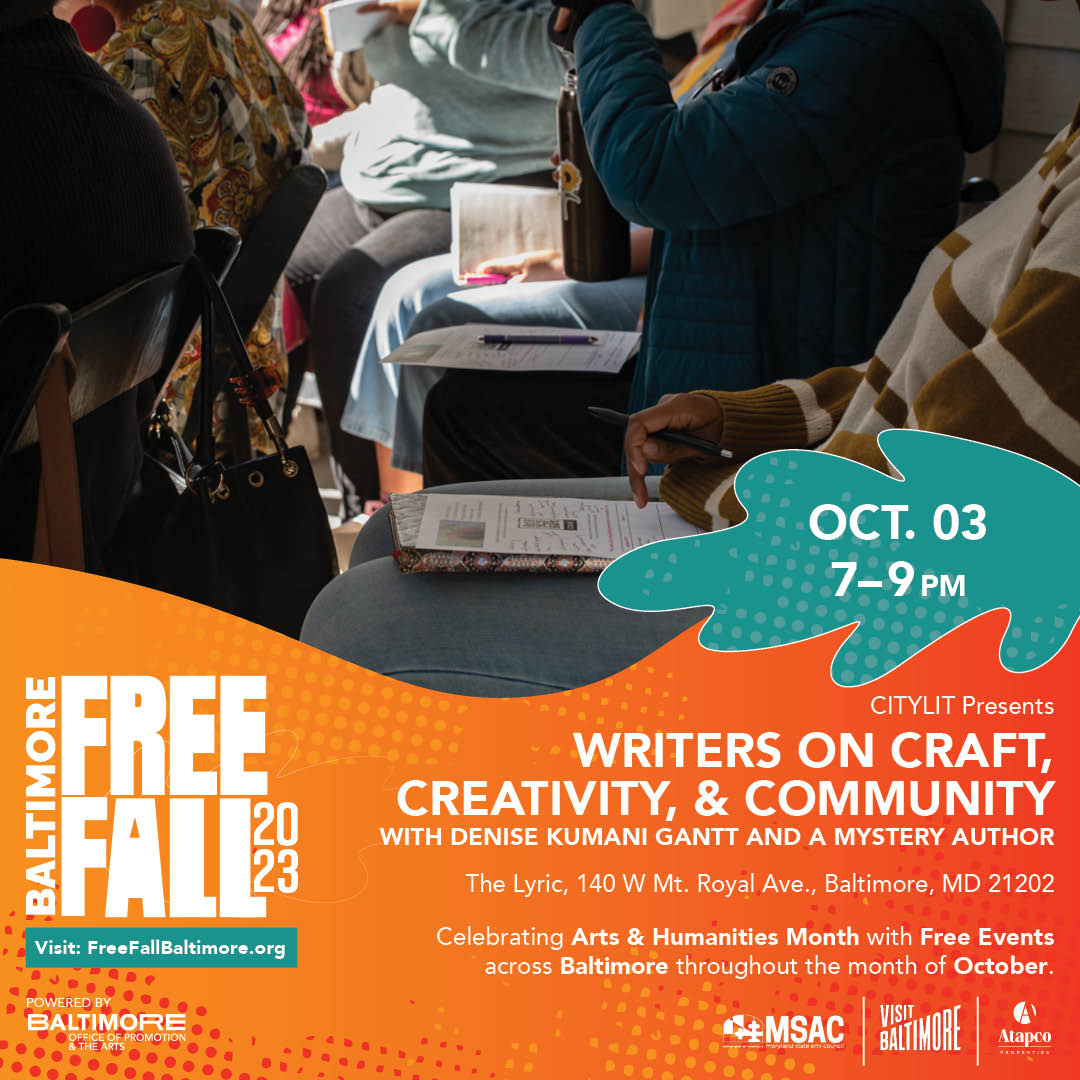 Dates: Times:
PART 1: Tuesday, October 3, 2023 from 7:00 pm – 9:00 pm via Zoom
PART 2: Tuesday, October 24, 2023 from 7:00 – 9:00 pm at The Lyric
Location:
The Lyric
140 W Mount Royal Avenue
Baltimore, MD 21202
Description:
CityLit Project presents Studio VIII: Writers on Craft, Creativity & Community was created as part of Free Fall Baltimore. The Studio is a unique opportunity for writers to experience lectures by two authors in different genres. This year's Studio includes Illuminate: How digital storytelling can amplify and shift your writing with creative Denise Kumani Gantt arranged in two parts, and National Book Award finalist poet Rio Cortez for an in person event at The Lyric.
This event is FREE but attendees should register.
Part One, a pre-Studio Zoom convening on Tuesday, October 3 REQUIRES attendees to have already selected:
Illuminate: How digital storytelling can amplify and shift your writing with DENISE KUMANI GANTT
PART ONE:
Zoom, Tuesday, October 3, 2023, from 7:00 pm – 9:00 pm EST
In this two-part workshop (Zoom and in person), participants explore the ways digital storytelling—the art of adding moving images to personal stories and poetry—can inform and amplify one's literary practice. Writers will create a digital story using a short poem or a prose work. Participants will be guided through the condensed process, and instructed on how to place images with voice for a meaningful reflection of their personal story.
Attendees are required to have already selected:
one to three photos, visual art, or video clip uploaded to their own computers in a digital format as a jpeg,

a poem no more than one page OR a prose piece no more than 300 words
This first intense, two-hour part allows participants to gain a larger understanding of what it takes to create a digital story for brevity and impact and the creative process of planning and working with We Video.
Participants will have access to the recording on the CityLit YouTube Channel upon completion of Part One and will have two weeks to work on or complete a digital story. 
Visit citylitproject.org for updates and more information.