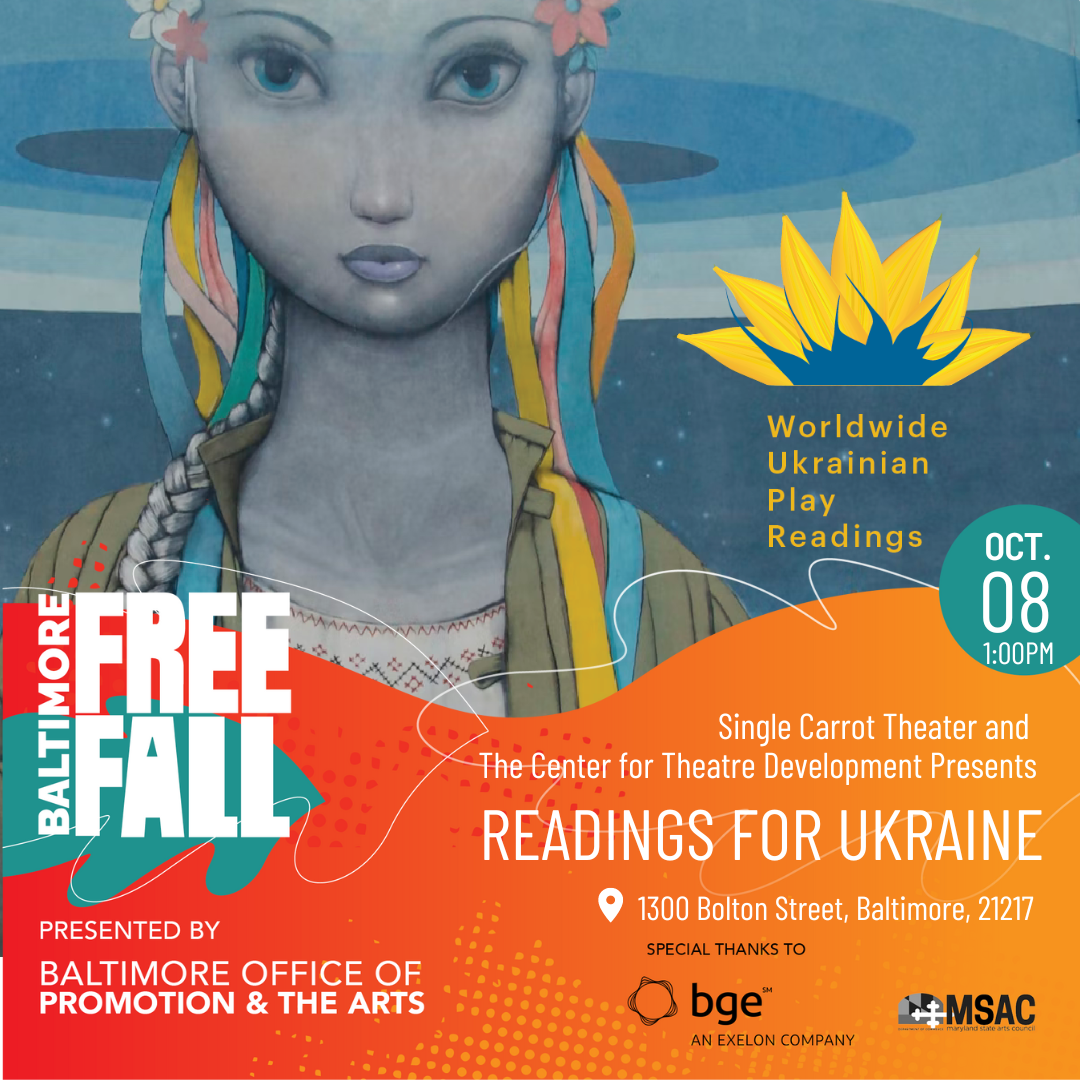 Center For Theatre Development present an evening of staged readings of new plays by Ukrainian playwrights commissioned by the Center for International Theatre Development (CITD), with Single Carrot Theatre as a producing partner.
Our purpose is connect Baltimore's artists and and audiences with the words and experiences of Ukranians suffering under the conditions of war through the intimate experience of live theatre. While this program will, of course, be free of charge to attend, there will be an opportunity for participants to donate to two charities: the Emergency Fund for Performing arts Artists in Ukraine which provides charity assistance to 8,000 artists living in Ukraine, and the Voices of Children Charitable Foundation which provides psychological and psychosocial support to children affected by the hostilities of the war. Funds from Free-Fall Baltimore would be used to compensate artist participants through the CITD, while marketing support, staff time, and facilities would be provided by Single Carrot Theatre.
This program will feature the following plays:
Robinson by Vitaly Chensky*
A man named Robinson decides to remain in Kyiv after the war begins. He encounters friends, family, ex-lovers and even his once-favorite writer Fyodor Dostoevsky, as bombs fall, the war intensifies, and the complexities of his own personal life do not recede into the background.
The Peed-upon Personnel Carrier by Oksana Grytsenko*
A local townsperson tells the rather humorous, always ironic, tale of one village's battle with an invading Russian tank. Full of homespun humor that paints pictures of the locals as lovable characters getting on with life in a bad situation.*
Call Things by Their Names by Tetiana Kytsenko
Monologue of a woman attempting to make sense of utter nonsense: Russia attacking Ukraine. Her thoughts race back and forth between personal observations and historical commentary, always returning to anger about the Russian invasion. She seeks to differentiate herself and her Ukrainian compatriots from their Russian neighbors by means of small, but significant details.
My Tara by Liudmyla Tymoshenko*
Monologue of a woman who loosely equates her favorite story – Gone with the Wind – with her own experiences during and before the war with Russia. She recalls her childhood growing up, and her colorful relatives. "I was not afraid at the age of five, but now I am afraid of nuclear war… I am afraid of falling asleep and never waking up," she says.*
Planting an Apple Tree by Iryna Harets
A woman recounts the events in her rural home as war creeps closer and closer. The horror of the war is at a distance, in other not-far-away cities, but it isn't quite here yet. She remains focussed on tending her apple trees. A feeling of safety and dread are mixed in together. "Fatigue. I don't cry. No tears flow," the narrator says.
Theatre has the unique ability to build empathy and community. It is our intention to support the artists of Ukraine, engage Baltimore audiences with meaningful and powerful civic art, and provide some meager relief for children suffering the horror of war.